Take A Walk With Us

---
When a dog steps on your heart, it leaves its paw print forever!
---
We love mail from other pets, and humans too! So Drop Us A Line!

mayerpups@earthlink.net
---
Mark Your Spot In
Our Guestbook &nbsp &nbsp
---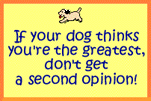 Welcome To
Kayla & Kody's World
"Pet's touch our lives in their own special ways
and forever remain in the warmest corners of our hearts"

IMPORTANT INFORMATION!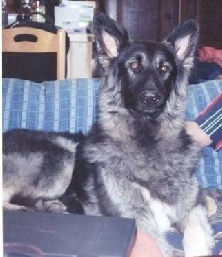 Please help find Rumble!
He is lost and was last seen in Virginia.
Please visit http://www.globalspan.net/lost.htm
for more information and to help!
Hi, My Name Is Kayla
I was born on November 7, 1991. I am a buff colored cocker spaniel who loves giving kisses! I enjoy running, chasing squirrels and birds, gnawing on my chewies and toys, sleeping on my back, and watching TV (as long as it's about animals - I love the Westminster Dog Show)! I really love the water! I am a bit shy of strangers, but once I get to know you, Iíll give you kisses too.


&nbsp More About Me
&nbsp Pictures of Me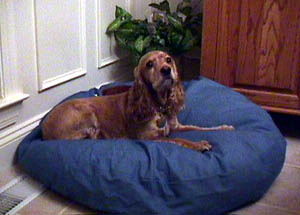 I won this cool bed from Santana's Birthday Club!
Hi, My Name Is Kody
I was the baby of the family at one time, but we won't talk about that. I was born on May 29, 1992. I am a buff colored cocker spaniel, but I have more white around my face and chest than Kayla does. I love to steal people's socks and carry them around. Tennis balls are one of my favorite toys. Squirrels are the enemy, so I always chase them away. I like giving high-fives to everyone! I love my Mommy! She letís me lay on her lap all the time, and I always keep her in my sight!


&nbsp More About Me
&nbsp Pictures of Me
Chasing your tail gets you nowhere,
except back to where you started!
&nbsp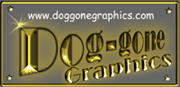 &nbsp
&nbsp

THANKS FOR STOPPING BY!
PLEASE COME BACK AGAIN!