My Recovery From Surgery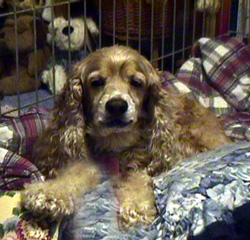 Before I update you on how I'm doing after my spinal surgery, I just wanted to thank those of you who sent me cards, and emails wishing me a speedy recovery, and keeping me in your thoughts and prayers. It worked! Your love and kindness (along with mommy and daddy's TLC) was the best medicine in the world! I have reconnected with some of my old buddies, and made some new ones! So thank you all!

I'd like to send out a special thanks to my fellow cocker spaniel buddy Santana. Mommy wrote Santana to tell him what had happened to me, and Santana spread the word, asking for thoughts and prayers. Through Santana's love and generous spirit, he really helped me and mommy make it through all this. So love and licks to Santana - you are a wonderful friend!
As most of you know, I had a ruptured disc in my spine that was causing me a great deal of pain, and paralysis. I had emergency spinal surgery to prevent any permanent damage to my spinal cord. GREAT NEWS! The surgery was a success! I had surgery in August 1999, and today I am doing great! I can walk on my own now, although, I am still wobbley. Mommy calls me "wiggle butt". I guess that's suppose to be cute or something! My doctor says I will probably always have a little wobble in my walk, so I'll just make the best of it. I'm still not allowed to jump on or off of things, like the sofa, or the bed. That is probably how I injured myself to begin with. So daddy built me some steps so I can climb on and off the sofa and the bed now, but only under supervision. Mommy still doesn't trust me to use the steps all the time. I'll show her! I have lost a little weight since my surgery, and last week when I went to the groomers for the first time in over two months, it really showed. Everyone thought I was a puppy again! Don't I wish! Anyway, I'm getting stronger everyday, and I was able to play with my tennis ball again too! Daddy just doesn't throw them very far, so it's easier for me to get to them.
So thanks again to all my pals who care so much! I will never forget how you were there for me, and for mommy. We love you all!


RETURN HOME