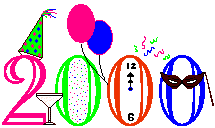 ---
When a dog steps on your heart, it leaves its paw print forever!
---
We love mail from other pets, and humans too! So Drop Us A Line!

Kayla-n-Kody@dog.com
---
Mark Your Spot In
Our Guestbook &nbsp &nbsp
---

If your dog thinks
you're the greatest,
don't get a second
opinion!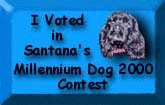 MEMBER
of the POD
Last Updated 12/29/99
This page has been seen

times.
Kayla, Kody, and Bailey
Wish You A
Happy New Year!
If it's been a while since your last visit, please hit your RELOAD/REFRESH key!
---
Hi, My Name Is Kayla
I was born on November 7, 1991. I am a buff colored cocker spaniel who loves giving kisses! I enjoy running, chasing squirrels and birds, gnawing on my chewies and toys, sleeping on my back, and watching TV (as long as it's about animals - I love the Westminster Dog Show)! I really love the water! I am a bit shy of strangers, but once I get to know you, Iíll give you kisses too.


More About Me
Pictures of Me
Hi, My Name Is Kody
I was the baby of the family, but we won't talk about that. I was born on May 29, 1992. I am a buff colored cocker spaniel, but I have more white around my face and chest than Kayla does. I love to chase squirrels! I also like to steal people's socks and carry them around. Tennis balls are one of my favorite toys. I'll retrieve them anytime! I like giving high-fives to everyone! I love my family, especially my Mommy! She letís me lay on her lap all the time, and I always keep her in my sight!


More About Me
Pictures of Me
Hi, My Name Is Bailey
Iím the newest member of the family. I was rescued on February 8, 1999. Mommy found me wandering the streets and she picked me up and brought me to my new home! I'm Lhasa Apso/Poodle mix with alot of spunk! I love to bite Kayla's ears, but I usually get in trouble when I do it. Kayla & Kody are my best friends, next to mommy and daddy of course!


More About Me
Pictures of Me
Chasing your tail gets you nowhere, except back to where you started!
---
Thanks for coming by! We hope the new year is full of hope, love and joy! So to all our animal and human friends...